Some things just don't fit anywhere else! That's what you'll find here, in no particular order. Information on the other projects taken on by Be-Papas before they eventually officially disbanded, as well fan encounters with the creators.
Note that only two projects are listed here, though the members of Be-Papas have of course moved on to do other things. Schell Bullet, for example, a project Ikuhara did with manga artist Mamoru Nagano, is mentioned frequently in interviews, but was not considered a Be-Papas project.
Utena Stuff


Ikuni Observation Journal - Shizuki Yamashita of Akadot accompanied Ikuhara during his time living in the United States. This is a blog, of sorts, of adventures with him. (circa 2001)


Creator Impressions @ Bara no Unmei - A fan's reaction to meeting Ikuhara and Saito at AnimeExpo 2000. Off-site link.

Enoki Films' Ursula's Kiss - This is an American company's attempt to translate Utena to...hard to say. Off-site link. This is terrifying. Apparently a Tagalog translation was done based on this. Sorry.



Shounen Ou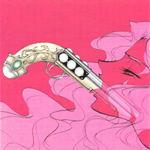 Project type: Novel

(Be-Papas)
Enokido Yoji (Writer)
Hasegawa Shinya (Character Design and Artwork)

This is a novel published in ten parts in Newtype Magazine, in 1999 and 2000. It is a strange story, which really just needs to be read. It involves the guns Enokido had so wanted in Utena, and a great deal of very unsubtle artwork.

Unfortunately, the lone website with anything to say about the story has switched hands a couple times and then fallen off the face of the internet. Fortunately, I'm a compulsive maniac and spent several hours peeling it off the Wayback Machine a couple years ago. It is now hosted exactly as it was found on Empty Movement, for posterity. Visit Dirty Hands!


Sekai to S&M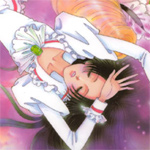 Project type: Manga

(Be-Papas)
Ikuhara Kunihiko (Concept)
Saito Chiho (Character Design and Artwork)

An effort between Ikuhara and Saito, this was released in the United States by TokyoPop as 'The World Exists for Me.' It's two graphic novels, and out of print, but easily found used. Unfortunately, reviewers in the United States overall panned it, calling it a disappointment. This may have something to do with the fact that it's fairly straight shoujo, where many of the people who sought it out were looking for another Utena. The product descriptions is as follows:



Once upon a time, the source of the devil R's invincible powers was The Book of S & M. But one day, a young man stole the book without knowing what it was, cut it into strips and used it to create a girl doll named "S" and a boy doll named "M" out of papier-mache. With that act, the unimaginable power that the devil held from the book was divided between the two dolls! While on a class trip in France, Sekai is rescued from a terrible accident by a mysterious young man and the doll known as "S." Soon, however, Sekai discovers that she's not only lost in a foreign country--she's also lost in time! From the creators of the manga classic that inspired the anime Revolutionary Girl Utena comes a dark and gripping Gothic fantasy.






Shoujo Kakumei Utena (Revolutionary Girl Utena) is © Kunihiko Ikuhara, Chiho Saito, Shogakukan and bePapas/TV Tokyo and/or their respective copyright holders. The US release of the Revolutionary Girl Utena series and movie was © Central Park Media and now belongs to Right Stuf. The US release of the Utena manga is © VIZ. The various sources used in this site are noted where their content is presented. Don't sue us, seriously. Blood. Stone.