August 16th
While a larger website update is pending within the next month or so, I felt it necessary to let you all know...WE HAVE THE NEW MANGA, NOT EVEN ONE MONTH OLD, ALREADY TRANSLATED AND READY FOR YOUR FEASTING EYES!!! It's a total sausage fest, which...suits me just fine. Your mileage may vary. There are also a few pages of interviews being translated at this moment, and another installation of the manga is set to be released in the winter! Things look great for SKU fans this year. :D
Let me know if you have trouble with the hosting of this file, and I'll help ya out!
July 7th, 2017
Now that SKU, Canada, and US have all had their birthdays, I think it's appropriate to mention to you all that I am indeed alive, and still working! And not working! Join me on the Tweetstersitething for my stupid, stupid rewatch of a stupid, stupid show that has consumed a stupid, stupid amount of my life. A huge update is incoming, with a lot of overhauling being done to the content and format of the site, but to whet the appetite:
No One Has Anything to Tell (track 32, OST 1)
Virtual Star Embryology (track 2, OST 2)

These are a taste of the kind of content I'm pulling together to offer on the new Audiology site, which aims to both cover all content related to Utena's music (including the batch of NEW ALBUMS that have come out in Japan in the last year) and provide in a convenient format all the various translations and copies of lyrics, song titles, and so forth. Especially with Seazer's music, a couple different interpretations can be welcome, should you dare analyze it!
There is also this: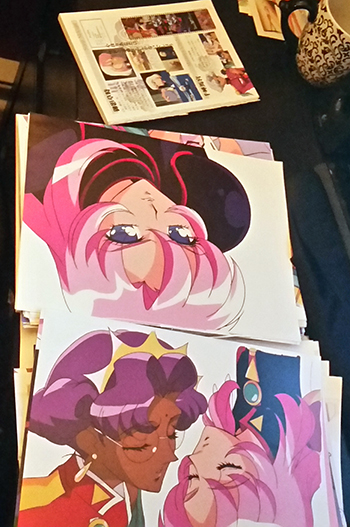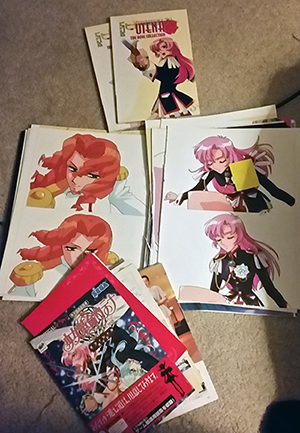 Because what do we do with the things we love? Viciously butcher them for the betterment of the internet! Lots of cool new scans of cool new shit, as well as a new corner of Empty Movement for hosting cover to cover scans of unusual, hard to find, rare resources like the BESM books now out of print, the game guide, and a book chock full of analysis and tidbits for anyone that dares try their hand at translating.

!!!!!!!!!ALSO!!!!!!!!!!!!
Chiho Saito is publishing a new Utena story in an upcoming edition of Flowers magazine in Japan. Who do you think has already preordered their copy? WE HAVE. I will be scanning this new chewable content as soon as I receive it and get it around to you folks for translating, mooning over, and generally freaking about. Good times are coming! :)
-Gio


October 24th, 2016
HAPPY HALLOWEEN. Trick or treat or Utena? You know which one you want. And have I got just the thing!

GO GET YOU SOME REVOLUTIONARY GIRL UTENA NOVELS AT YOUNG HOPES, a new site subsection for hosting of Dallbun's awesome translations of the two light novels released in Japan and now finally in a format most of us can read! Several formats, in fact! Load up your book readers and park your asses in bathtubs, folks. Take a glass of wine! Unless you're a fan of Miki or a Saionji/Wakaba shipper. Then take the bottle.

There's always stuff planned for the site, guys! More doujinshi and high quality images from the Hardcore of Utena books, as well as a revamped Audiology section with multiple translations of Seazer content for your perusal.

The translated patch for the Utena Sega Saturn game continues to be a work of art. Feel free to get your hands on it through the forum thread, though I intend eventually to have a hosted site for it.

Empty Movement lives! Thanks so much to everyone for their support and patience! We won't ever leave this god forsaken site alone, promise. :)


January 12th, 2016
IT LIVES! So welcome to Franken-Update.
I realize that while Yasha has been keeping the Tumblr busy, I (Giovanna) appear to have fallen off the face of the earth. Not so...ish! If Yasha is the face and voice of the Empty Movement brand, I am its churning bowels, and when I pop up it's usually more of a relief for me than it is for those in my vicinity. This metaphor got weird. Maybe I should be the hands or something. Anyway. It turns out if I was looking for free time at work to slack off and build websites (which is how much of Empty Movement was built), I shouldn't have gone into nursing. Alas, gainful employment!
At any rate, while the site hasn't been officially updated in some time, I haven't forgotten it; I've been picking at little code errors and big projects over time. What have I got for y'all? Well!

I've overhauled and added content to the Analysis section. What I've been picking at most over this apparent absence is this; analysis had long struck me as kind of old and ratty, and I felt like I should try to do better by what so much of the rest of the site revolves around. What do I mean? Well much of the gallery was designed the way it was for analysis, with extensive episode screenshots and set design sections, and the entire subsite about creator interviews was as much a resource for discussion as an offering of otherwise obscure tidbits. Audiology would never have gone up probably except that I had song translations and wanted them available for discussion. (Audiology is also slated for update since I have the CD box set from Japan and the 'official' English CD releases with their own versions of Seazers' lyrics to add. So that's a thing.) The new analysis section attempts to offer more information to launch discussion from, and will have a work in progress section covering direct references made by Utena. There are also new essays, most of them (5 out of 6) in the narrative section, with the last in personality. Definitely check them out!!
I've also added several high-resolution scans from the first arc and the first ending credits to the gallery, courtesy of the massive Hardcore of Utena books that I still don't know whether are official or not. All I know is the book includes an obscene number of obviously from the source images of cels from key moments in the series, and these I am slowly going to work into the episode galleries and also offer seperately in the above links for quick finding. (I am heavily editing each scan to best represent the original, as I did with other artworks in the gallery. No small task!)
There's also a GIGANTIC new pile of doujinshi I'm working on, thanks to cscratch sending almost their entire collection to me for ruthless butchering! Yep, tons of it, and all for the greater good. I'm still working on these, but for now I've uploaded 16 new doujinshi, none of which are hentai! I was thus compelled to split the section into page counts, so look around and explore! I didn't realize at its inception quite how many doujin, dirty or otherwise, would surface for an almost 20 year old work. I should have known better. :)

So what's new and coming to a site near you? A couple really amazing things:

In other stupidly amazing news, some amazing and complete maniacs (that's right, Endless, Ayu Ohseki, Dallbun, et al.) upped the ante on Dallbun's Let's Play posts of the video game. We now have a working translation of the game playable on Saturn ROM. I KNOW, WHAT THE CHRIST. What do I have to do with this? I build websites. That's some retro-level loser right there, but I will be eventually hosting the ROMs and instructions for their use with resources to help people play them. All of this is already available on the forum if you can't wait, but I've received blessing to make it official and immortalize it on the static pages of my silly old website that will probably never go away because I'm stubborn as hell. :)


We've added a link to the information necessary to donate to the website, as people have, at times, offered to do so. No pressure guys; this site isn't going anywhere, isn't getting ads, and isn't relying on your support. But if you're willing to offer it, we will make good use of the funds, and be very thankful. We'd also happily gobble up any doujinshi you happen to have floating around. :)


Updates
October 24th, 2016 - The addition of Young Hopes, a new section of the site devoted to the two novels written for Utena shortly after its broadcast in Japan. Translated and hosted with permission from Dallbun!
January 12th, 2016 - The Analysis section has been completely overhauled. Several new essays have also been added, most of them (5 out of 6) in the narrative section, with the last in personality.
Several new high resolution scans have been added to the Gallery, covering the first arc and the first ending credits. Aside from their own sections, these have been incorporated into the episodes as well.
I've uploaded 16 new doujinshi, all from physical copies donated by cscratch, to the Doujinshi Gallery. They are spread across the Under 40 Pages and 40-69 Pages sections. None of them are hentai.
December 17, 2013: The gallery overhaul has been completed and moved to Gallery3. Episodes 1-3 have been cross linked in the forum's archives to maintain links. (This will be a slow process.) Several new pieces of art were added, including the first high resolution scans from Hardcore of Utena, and the Blu-Ray covers. The massive Utena Doujinshi Gallery has been launched, with thousands of high resolution, carefully cleaned and aligned pages of SKU fan goodness. A donation information page has been added to the main site, and the new content has been incorporated into the current layout. The site information section has been completely overhauled for content, since we haven't updated it since the end of the Second Age and the beginning of the Dominion of Men.

Oct. 22, 2013: Some of you may have noticed already, but we have three new Analysis essays and new Gallery software. New content will continue to be added to the Gallery as we receive it.


*POLICY CHANGE*
• Fan-works: We try not to post fan-work on the site without the explicit permission of the person it belongs to, and that has always been our policy in the past. Unfortunately since the fandom has been around for many, many years now, and since so many people have dropped out of it to get on with their adult lives (what? stop looking at me) we cannot always get explicit permission. Instead, we promise that we'll remove any work if the creator requests that it be removed. We have always honored this in the past, and we will continue to do so in the future.

Contact: Giovanna or Yasha

In the Rose Garden: The Forums @ Empty Movement
Empty Movement @ Tumblr
Gallery • Doujinshi Gallery • Vector Traces • Audiology • Series Scripts
Creators • Analysis • Fandom • Multimedia • Akio Ohtori
Mrs. Ohtori • Donations • Site Info

[Hosted Sites]
Dirty Hands • Utena Fanfiction Repository
Elegant Destruction • Inférieure
The content on Empty Movement belongs to Giovanna Spadaro and Yasha (who will remain otherwise nameless). Images and media scanned, ripped, and altered by us. Shoujo Kakumei Utena (Revolutionary Girl Utena) is © Kunihiko Ikuhara, Chiho Saito, Shogakukan and bePapas/TV Tokyo and/or their respective copyright holders. The US release of the Revolutionary Girl Utena series and movie is © Nozomi Entertainment, previously © Central Park Media, and the US release of the Utena manga is © VIZ . Don't sue us.